Yes, time to wish one and all a happy holiday, no matter what they celebrate.
Personally, for me it has always been about sending personalized cards with a personal comment.
I know that when I receive such, I really enjoy them. Especially from international friends and clients the world over.
It's just so much more real than an e-message, which at the best of times rank as somewhat insincere and fleeting.
Give the greeting with legs, mail out your sentiments the good old fashioned way and you'll be glad that you did.
Ho ho ho!
Michael
When I'm at the cottage, there are many wonderful elements to enjoy:
Fresh air, wildlife, the brilliant starscape and, the ineffable, beautiful silence.
To those of living in the city, the noise is endless and a serious impediment to a high quality of life.
Mail is silent – there are no sound distractions. You and your mail. Golden.
Remember to take advantage of this the next time you compose and mail out your mail piece.
You and your mail. Silence. Golden.
Michael
Dear Reader,
Y'know, I'm not very excited about most mail that I receive; are you?
There is an exception though, and that is bulky mail or mail with some "thing" in it.
Those I find irresistable; it's a bit like Christmas, isn't it?
3D mail packages are exciting to the addressee, and are vastly underplayed. Somethings to consider:
Hone your target down to definite prospects; users of your service(s) and/or product(s);
Get your name on the thingy you are enclosing, and keep it relevant to what you offer; make your company memorable by it;
Avail more if they wish upon a visit or what have you;
Test against a non 3D mailing; you will be stunned at the difference in response*
(*Keep in mind that creative contributes about 20% to the overall response, the balance coming from the list and the offer.)
So give it a try and let me know the results.
Michael
Yes
 it does dear Reader. In many ways.
First of all, if you look at postage rates, you are charged more for large sizes, same weight, than for small sizes. Check with your PO to be sure you are getting the biggest bang for your buck.
From a Direct Mail perspective, you will make a larger impact with a larger sized mail piece. The trick is to go to the maximum size allowable at the lowest rate available.
A 6 x 9 envelope has 54 sq, inches of "real estate"; a #10 envelope has less than 40. That is definitely some extra room in which to state your case, front and back. More curb appeal, if you will…
Let's face it, a lot of people, although they have to look at their mail, just look at the covers…they are judging your book by your cover. And deciding quickly - stay or go, open or toss…
Take advantage of that moment and that instant engagement; tease the offer, entice them with beauty, money, reward,right on the cover. Get them to go inside; that's where the action is. Make that space work for you and grow your ROI.
Go big, or go home.
Michael
Dear Reader,
Yes, mail is expensive and slow compared to cheap and instant e-mail.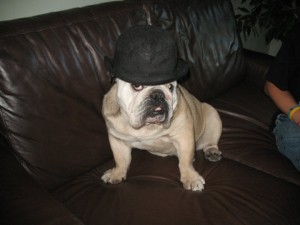 But mail is still incredibly effective if you know what you want to achieve, who you want to reach, what you have to offer and how you want to offer it.
Now, if you were to send Clementine (pictured above) an offer for free cat food; well that would be a waste of money and a, er, bowser of an offer
Now, if you were to  send Clementine an offer for your new dog food, well then that would be money well spent. Lifetime value of Clemmie's dog food bill would exceed $2,000, so a share of that would be something worth achieving, no?
Why mail? It is real, tangible evidence of your interest in the consumer. It lingers around much longer than e-mail, and you can argue that it makes a very real impression on more than just one sense.
With today's technology,you can impact all 5 senses, yes, all 5 senses with your mail. That is a sensational opportunity to connect and convert prospects into clients.
Think about that and the creative potential that exists only with mail of the real kind.
Are you getting the maximum pop from your mail? Are your campaigns tired and uninspired?
Are you pulling the envelope instead of pushing it?
If you've got a good product or service, then mail continues to be an excellent and effective medium to reach and touch your audience and you can benefit fully from it; go for it!
Ta ta for now,
Michael
Dear Reader,
Ho Ho Ho!  For those that celebrate, Santa's a coming (and for those that don't, 'tis still the season for greetings): are You sending out cards this year?
If you do – personalized, I mean really sign the things; if you've got too many to sign, then they're really not personal are they, so don't bother with those that ain't…
A little handwritten note alongside is nice as well.
Personal Christmas cards deliver a real touch from you to whomever, and we all know that it is the relationships that make the world go round and the cash registers sing.
Card with gift? Even better, although it is possible that the gift may outshine the message and you, so figure out how to tie it all back to you.
No gifts with that cards?  Great,  for it is truly the thought that counts, so make that thought count.
If we're in the mail business, then there is no excuse for not sending out cards, everybody likes to get a nice card, and, why not send a card saying thank you at this special time of year.
And what kind of card? Well, you know your customer, so you should have two on hand, for those that do and those that don't. If you are not sure, then you know which one to send, the all purpose politically correct version of course
Merry Christmas and/or  Season's Greetings, it's that time of year again!
Michael
Dear Reader,
The most common complaint that I hear from the Direct Mail community is that there is a dearth of names and lists out there; there's no one to mail to?
Well, hello, this is where the virtual world really (chuckle) comes into play, because building a relevant database has never been easier, has never been cheaper. Many companies can easily do this on their own, using just their own site.
"We'll send you something free in the mail, just fill this out!" There you go, your own database complete with privacy issues addressed, and with a request for your information. Does it get much better than that?
 
That's what I'm talking about. There's no reason why you can't harness the power of your own web site to spin and build your own current and qualified database. A database that you can well use for mail of all ilk, and that can be the cornerstone for your successful database marketing and direct marketing efforts.
Build it, and your mail audience will come.
Michael
Dear Reader,
Last week I wrote about the physical component of greening your mail, envelope, paper stock, size, materials etc.
This week I would like you to carefully consider where and who your audience is.
A 3-5% response rate is considered very good for most direct mailings. Of course, that means that 95% of that mail is garbage, of no value at all to the person receiving it.
Direct Mail that doesn't hit the target is junk mail.
So let's review what we can do.
First of all, make sure that you have got the correct, accurate, validated, updated address for the recipient.Run your database through certified address correction software and national change of address software.
Eliminate any duplicates. Verify rental lists for recency of updates and complete accuracy/NCOA validation.
Take a hard look at your selection criteria, and choose only the most relevant prospects. You can turn junk mail into "treasure" mail by sending the right offer to the right person.
By following the above considerations, you will reduce waste, improve your numbers and make the world a little bit greener.
Michael Hofmann
Dear Reader,
A few e-mail tales have come to my attention recently.
The first was a million name e-mail blast that drew a total of 8 orders…
The second was an e-mailing of 5000 well targetted solicitations that drew neery a response…
The third was an important newsletter that was only opened by 12% of the recipients.
E-mail is so plentiful, so screened and often surprisingly inefficacious.
Now, I'm not one to say the world is flat, but the point is there are flatlands on the planet and regular mail is much better for many applications: it is real, it gets seen, it gets read if you send it to the right people.
Not so for e-mail; many have just too much of it and don't actually have time to read anything but the most important that gets onto the screen.
Keep all of that in mind when you are planning your next campaign. For your best prospects, it makes sense to send them something real.
Really.
Michael