Dear Reader,
Yes, mail is expensive and slow compared to cheap and instant e-mail.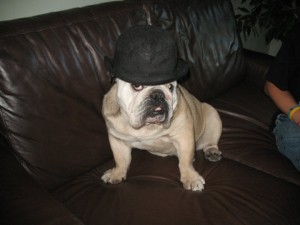 But mail is still incredibly effective if you know what you want to achieve, who you want to reach, what you have to offer and how you want to offer it.
Now, if you were to send Clementine (pictured above) an offer for free cat food; well that would be a waste of money and a, er, bowser of an offer
Now, if you were to  send Clementine an offer for your new dog food, well then that would be money well spent. Lifetime value of Clemmie's dog food bill would exceed $2,000, so a share of that would be something worth achieving, no?
Why mail? It is real, tangible evidence of your interest in the consumer. It lingers around much longer than e-mail, and you can argue that it makes a very real impression on more than just one sense.
With today's technology,you can impact all 5 senses, yes, all 5 senses with your mail. That is a sensational opportunity to connect and convert prospects into clients.
Think about that and the creative potential that exists only with mail of the real kind.
Are you getting the maximum pop from your mail? Are your campaigns tired and uninspired?
Are you pulling the envelope instead of pushing it?
If you've got a good product or service, then mail continues to be an excellent and effective medium to reach and touch your audience and you can benefit fully from it; go for it!
Ta ta for now,
Michael
Dear Reader,
Ho Ho Ho!  For those that celebrate, Santa's a coming (and for those that don't, 'tis still the season for greetings): are You sending out cards this year?
If you do – personalized, I mean really sign the things; if you've got too many to sign, then they're really not personal are they, so don't bother with those that ain't…
A little handwritten note alongside is nice as well.
Personal Christmas cards deliver a real touch from you to whomever, and we all know that it is the relationships that make the world go round and the cash registers sing.
Card with gift? Even better, although it is possible that the gift may outshine the message and you, so figure out how to tie it all back to you.
No gifts with that cards?  Great,  for it is truly the thought that counts, so make that thought count.
If we're in the mail business, then there is no excuse for not sending out cards, everybody likes to get a nice card, and, why not send a card saying thank you at this special time of year.
And what kind of card? Well, you know your customer, so you should have two on hand, for those that do and those that don't. If you are not sure, then you know which one to send, the all purpose politically correct version of course
Merry Christmas and/or  Season's Greetings, it's that time of year again!
Michael
Dear Reader,
The most common complaint that I hear from the Direct Mail community is that there is a dearth of names and lists out there; there's no one to mail to?
Well, hello, this is where the virtual world really (chuckle) comes into play, because building a relevant database has never been easier, has never been cheaper. Many companies can easily do this on their own, using just their own site.
"We'll send you something free in the mail, just fill this out!" There you go, your own database complete with privacy issues addressed, and with a request for your information. Does it get much better than that?
 
That's what I'm talking about. There's no reason why you can't harness the power of your own web site to spin and build your own current and qualified database. A database that you can well use for mail of all ilk, and that can be the cornerstone for your successful database marketing and direct marketing efforts.
Build it, and your mail audience will come.
Michael